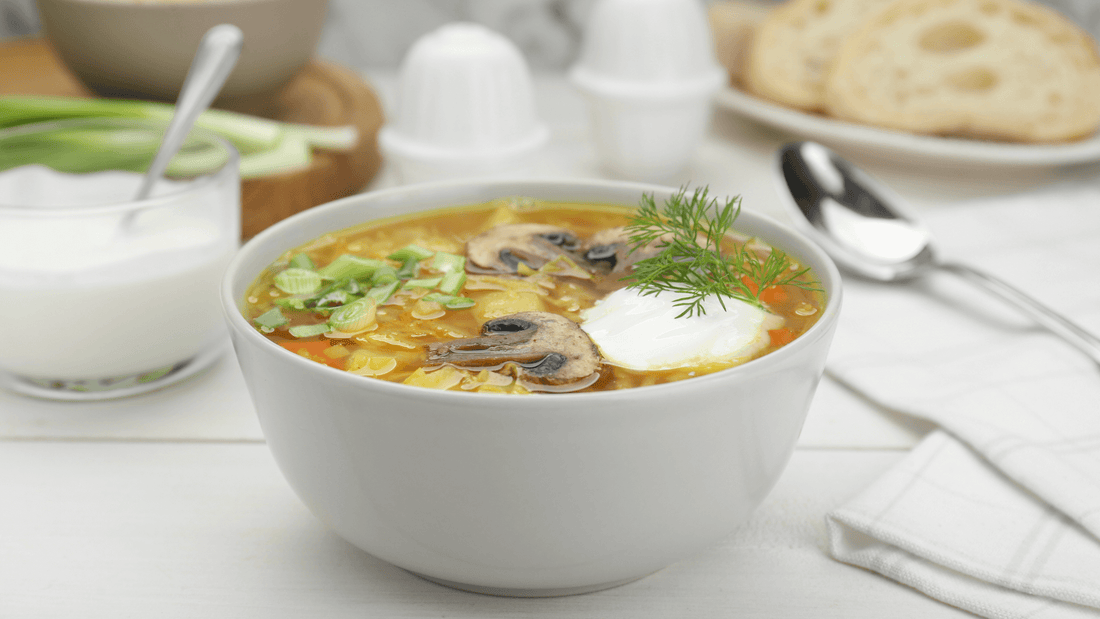 How to Make the Sacred 7 Golden Mushroom Soup
Soups are one of the most nourishing ways to add nutrients to your routine. While most mushroom soup recipes are delicious, something about the addition of comfort food flavors makes this one so appealing any time of year. When you add Sacred 7 Mushroom Extract Powder to any soup, you're increasing the nutritional value of your diet with little effort.
Our mushroom powder blends seven nutrient-rich mushrooms: reishi, cordyceps, lion's mane, chaga, turkey tail, maitake, and shiitake. From improving overall health to supporting the immune system, these mushrooms pack a powerful punch of health-boosting benefits. We use only 100% USDA organic fruiting bodies in our pure powder.
Sacred 7 Golden Mushroom Soup
Ingredients
2 tablespoons vegetable oil

1 medium onion, finely chopped

1 cup carrots, sliced

2 cloves of garlic, minced

8 ounces of sliced mushrooms (cremini and button)

1 tablespoon all-purpose flour

4 cups low-sodium beef stock

1 can (10.75 ounces) Campbell's Golden Mushroom Soup

1 teaspoon Worcestershire sauce

1 tablespoon Sacred 7 Mushroom Extract Powder

1 teaspoon dried thyme

1 teaspoon dried rosemary

1 teaspoon salt (adjust to taste)

1/2 teaspoon black pepper (adjust to taste)
Instructions
Step 1: Heat the vegetable oil in a large pot over medium heat. Add the chopped onion, sliced carrots, and minced garlic, sautéing until they turn translucent and fragrant. Now, it's time to add our star ingredient—mushrooms! Toss in the sliced mushrooms and cook until they release moisture and turn golden brown.
Step 2: Sprinkle the all-purpose flour over the mushrooms and stir well to ensure it's evenly distributed. This will help thicken the soup. Gradually pour in the low-sodium beef stock, stirring constantly to avoid lumps. Add the condensed golden mushroom soup, Worcestershire sauce, dried thyme, dried rosemary, salt, and black pepper. Stir the ingredients together, combining them into a savory base.
Step 3: Now it's time to incorporate the Sacred 7 Mushroom Extract Powder. Add a tablespoon of Sacred 7 Mushroom Extract Powder to the simmering soup, stirring well to ensure it's evenly distributed.
You can always adjust your Sacred 7 addition to taste. Some users add up to 3 tablespoons!
Step 4: Lower the heat to a gentle simmer and let the soup cook for about 15 minutes, allowing the flavors to meld together. This will also allow the mushrooms to impart their rich flavor to the soup.
Step 5: If you prefer a smooth and creamy soup, use an immersion or regular blender to blend the soup until smooth. Alternatively, if you enjoy a chunkier texture, you can serve it as is. Adjust the seasoning if necessary.
Step 6: Serve the mushroom soup hot and savor the delightful flavors and healthful properties of mushrooms. You can pair it with some warm crusty bread or a side salad for a complete meal. Feel free to garnish with fresh herbs like parsley or chives for an added touch of freshness.
Notes
The beauty of this soup is that you can customize it to your liking. If you like the essence of white wine, deglaze the pan with it after your onions are finished cooking. If you want paprika, by all means, add some. If you're looking for a heartier meal, add rice, noodles, or beans to stretch each bite. For toppings, sour cream or a dairy-free alternative that adds a creamy tang is a great pairing.
Campbell's Golden Mushroom Soup is the classic blend of beef stock, tender mushrooms, and tomato puree. If you're vegetarian or vegan, you can add a similar depth of flavor with vegetable stock in place of the Campbell's and beef stock and tomato paste or puree to add depth to the soup.
You can even make this in the slow cooker by following Steps 1-3 on the stovetop and finishing it on the countertop on low for 4 hours or high for 2 hours. You can make the whole soup inside if you have an Instant Pot!
The best part about this homemade mushroom soup infused is it's infused with the incredible health benefits of Sacred 7 Mushroom Extract Powder. Enjoy this comforting and nourishing bowl of goodness, knowing you've made a choice supporting your well-being.